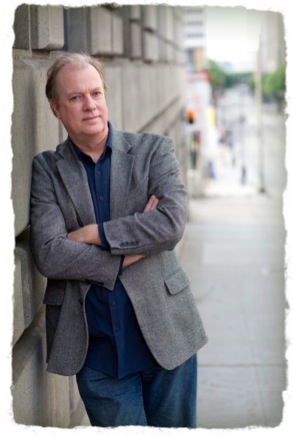 James Scott Bell
came to Cincinnati on September 15th-16th with his next level fiction writing seminar. I've been studying what I call, "The Bell Method" for years now. Why you ask? Because Jim is one out-standing teacher. In the words of Hunter, for those of you who remember the show, "It works for me." I think it works for a lot of other writers too.
I met Jim at Mt. Hermon a half dozen years ago. I was unpublished and had been studying the craft for at least 17 years. That's a long time to hang on to a dream of getting published, but I'm just too stubborn to quit. So of course the first thing I learned from Jim is rather obvious for those with a stubborn streak, keep writing. :) Yep that's it. And I did. It's the quality of our books and word of mouth that will sell our books. If you want to be successful you have to keep turning out quality work.
This past weekend though we focused on important areas that I can't come close to covering here. But here's three of my favorites.
THE POWER OF DIALOGUE
Most of us know that when editors and agents read a manuscript they may very well look for white space before they start reading. That's frequently a clue about use of dialogue in a manuscript verses long sections of narrative and/or description. We want to write dialogue that moves our stories forward and shows conflict between characters, reveals speech patterns, and pick the best words we can in order to capture our readers attention.
The Voice Journal
is another tip that Jim suggested. I'd never done this before and it was a lot of fun and very useful. For instance if you want to work with the way your characters sound, make a voice journal and start writing the way you think that character would talk. For instance, in my novel Secrets of the Heart, I have an orphan named Danny. My heroine Madeline is trying to make an impact on his life.
"What would you like to be when you are grown?"
"Dunno. Do mad folk get to be somethin' when they's growed up, Lady Majesty?"
"Danny, you are strong-minded. You are not mad."
"Sure am. Mr. Sullivan says I'm batty more than most my age."
"I'll have a talk with Mr. Sullivan. You are as normal as any boy your age. Just because you have no parents does not make you mad."
"You sure?"
"I'm sure."
"Good. Then I'll be . . . a pickpocket."
So you see how I could practice this type of conversation when I'm developing my characters even if I do consider myself an organic writer and not the well organized outliner.
WHAT WE CAN LEARN FROM FILM
Jim uses film when he teaches and I love this. This clip from Pride and Prejudice is one of my favorites and not one of the clips that Jim used.
Lizzy and Mr. Collins
Listen carefully to the dialogue as the scene progresses. Another trick I learned somewhere along the way long ago is that you might also want to watch the clip without the use of sound if you want to improve on actions that may accompany the dialogue you write. So much fun. So seek out some of your favorite movies and have fun improving upon your craft.
WRITING SCENES
I love writing in scenes but I don't do it in a very organized fashion. I've even bought the software called,
Scrivener
and haven't used it yet. I'm going to try it as I develop my next series and see how it goes. Jim reminded us to cut out all the dull parts or the parts people like to skip. If there's no conflict, no internal pressure, and everyone is happy then we don't have much of an interesting story. We want to make our readers worry about what will happen to our characters. And as an ex-trial lawyer Jim used a great acronym we should all remember.
Something
Unexpected in
Every
Scene
There was so much information packed into this seminar. If you ever get the chance to learn from Jim don't miss the opportunity. Jim makes learning fun! Oops, was that an exclamation mark? Jim blogs every Sunday at
The Kill Zone
.
Jim served as fiction columnist for Writer's Digest magazine, to which he frequently contributes, and has written four craft books for Writer's Digest Books:
Plot & Structure
,
Revision & Self-Editing
,
The Art of War for Writers
and
Conflict & Suspense
.
Craft is important to all of us who seek to improve our writing. What's one thing you learned this past year that's made a difference in your skill level?