If you're a writer are you signing at a Christian Bookstore this week? If you're a reader are you attending a signing or visiting your local Christian Bookstore? This is going to be a great week, don't miss out on the fun in your area and say thank you to the people who keep our Christian Stores open. I love browsing through a Christian Bookstore. Love looking for new books, new music, and timeless ones as well.
I have the honor of signing at The Logos Christian Bookstore in Alexandria, Kentucky on October 8th. Click
Here
for directions. I'm really looking forward to this opportunity and plan on enjoying myself immensely. Do I want to sell some books? Of course. But more than that I want to talk to readers of Christian Fiction and maybe even some readers who've never read a Christian novel. I love finding out what people are reading and why.
I've always been in awe of the readers who are so very gracious that they choose my book among all the book choices out there to read. They encourage me by purchasing my book and in turn I hope I encourage them with my words. I hope I encourage them by escaping into the past with me to discover faith for the future.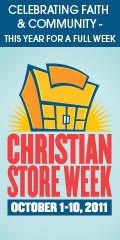 I've read some interesting blog posts recently. Check out Katie Ganshert's blog at The WordServe Water Cooler,
Love the Reader
. And then visit
Donald Miller and The Best Writing Advice
at his blog for some more insights about readers and writers.
So what are you waiting for? Join in the fun this week. And let me know where you are signing or what store you are planning to visit if you're a reader. And if you are joining me at Logos in Alexandria, Kentucky, bring your smile because my awesome hubby will be taking pictures and your bound to end up on this blog as you are caught supporting Christian Store Week! Is it too early to start shopping for Christmas? If so it's not too early to start shopping for Sweetest Day, October 15th.