"To love at all is to be vulnerable. Love anything, and your heart will certainly be wrung and possibly broken. If you want to make sure of keeping it intact, you must give your heart to no one, not even to an animal. Wrap it carefully round with hobbies and little luxuries; avoid all entanglements; lock it up safe in the casket or coffin of your selfishness. But in that casket- safe, dark, motionless, airless--it will change. It will not be broken; it will become unbreakable, impenetrable, irredeemable." C.S. Lewis
I recently discovered that there is now a C.S. Lewis Bible.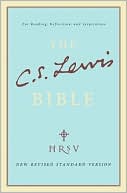 Photobucket
I've been considering getting a new Bible this year as my Bible study group and I read through the Bible in a year again. I think this Bible is the one I want, and I'm sorry to say that I dislike the cover a lot! For someone as creative as C.S. Lewis was I would have thought the cover would be so beautiful and dramatic. Instead, not so much.
If you go to the reviews at the on-line booksellers I think you'll see that people like what's inside. So, I'll probably get it. But I really wish it had a more inspirational cover. I guess since I just got my first book cover and love it I'm paying more attention. Although I've always enjoyed cover art. I hope that the people who designed this cover won't take too much offense at this comment and I hope they come out with another cover that is as creative and fascinating as the man who inspired it.
What do you think? Have you purchased this Bible? Did you know about it? Does a cover make that much difference? Should it?