1 John 4:18 There is no fear in love; but perfect love casts out fear, because fear involves torment. But he who fears has not been made perfect in love.
I've wrestled with different types of fear my entire life. My parents separated when I was six. I had nightmares until I was in college related to the fear that many kids believe, and that's that they are somehow responsible for the break up of their parents. Not true, yet many kids feel or have felt this way.
I was very sick and hospitalized when I was in second grade. In 1963 children were on wards and in beds next to each other, (at least it was my experience). The children on either side of me died. I became afraid of death. My brother died when he was 27 years old and I was 29. I became even more afraid of death.
I experienced a lot of other reasons to fear in my lifetime: car accidents, my own children's illnesses, the death of friends, the death of other family members. The list goes on and on. I'm 56 now and I'm not afraid most of the time. Do I occasionally let my fears slip in? Yes. I'm not able to banish my fears completely, but I finally figured out that no matter how hard I try, in my human strength, I cannot keep bad things at bay. I don't have control. God does. All I can do is the best I can do, trust God for the rest, and remember the mustard seed.
He replied, "Because you have so little faith. I tell you the truth, if you have faith as small as a mustard seed, you can say to this mountain, 'Move from here to there' and it will move. Nothing will be impossible for you." Matthew 17:20 NIV
So have faith, not fear. Peace, not fear. Trust, not fear. Hope, not fear.
In my counseling Bible, The Bible for Hope, NKJV, the introduction to Numbers talks about fear. The first paragraph states, "Fear can immobilize. Fearful people often do not think straight and run off in the wrong direction to escape the source of their fear. The world can be quite scary, and at times, Christians will become afraid. On those occasions, they can either run away from God, thinking that he cannot handle their fears, or they can run to God for protection."
For God hath not given us the spirit of fear; but of power, and of love, and of a sound mind.(King James Version)2 Timothy 1:7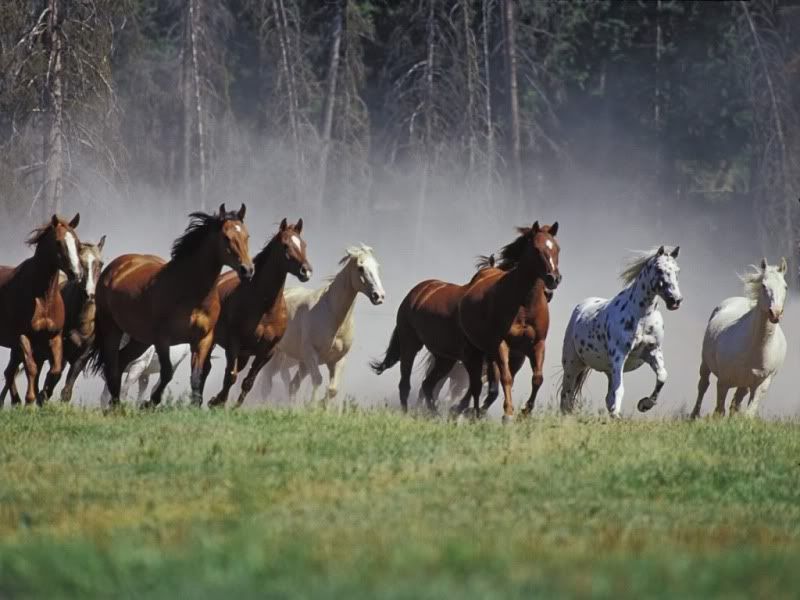 I have a book coming out soon and that's exciting and scary and incredible. This is one of the most awesome seasons in my life and though I could allow my fears to run wild I've decided to let my faith run wild instead.
The next time you think about letting your fears run wild I encourge you to let your faith run wild. Wild and free faith like these horses even if that faith is as small as a mustard seed.
Questions: The last time you faced a fear, large or small, what did you do? OR When you face fear today how does it effect you and how do you combat it? AND/OR What's your favorite quote or scripture about fear?
HAVE A FEARLESS WEEK!